Umicore Grubbs Catalyst M204
Umicore Grubbs Catalyst M204
Applications & references
Asymmetric synthesis of new cyclic fluorinated amino-acids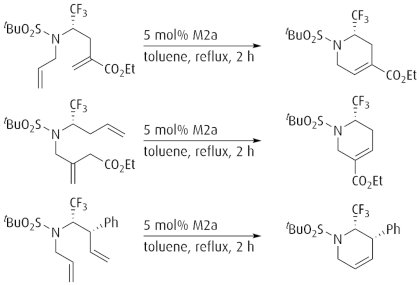 Reference: European Journal of Organic Chemistry, March 2018
Photoinduced strain-assisted synthesis of a stiff-stilbene polymer by ring-opening metathesis polymerization.

Reference: Chem. Eur. J. 2020 (10.1002/chem.20200418)
Facile synthetic route to [3.n]thiacyclophanes via ring-closing metathesis.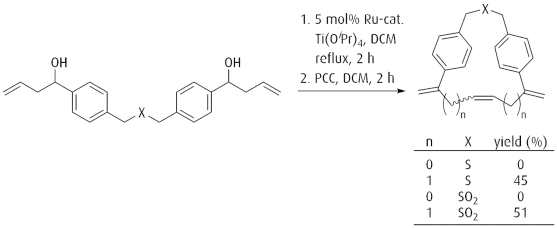 Reference: Eur. J. Org. Chem. 2020 (10.1002/ejoc.202000697)
RCM-Based Total Synthesis of the Antibiotic Disciformycin B.

Reference: Angew. Chem. Int. Ed. 2020 (doi.org/10.1002/anie.202004589)
Sequential two-fold Claisen Rearrangement, One-pot Ring Closing Metathesis and Cross-metathesis as a Route to Substituted Benzo[b]azepine-2-one, Benzo[b]azepine and Benzo[b]oxepine Derivatives.

Reference: Helv Chem Acta 2020 ASAP (doi.org/10.1002/hlca.202000216)
Sequence-regulated vinyl polymers via iterative atom transfer radical additions and acyclic diene metathesis polymerization.

Reference: Polym Chem 2020 ASAP (doi.org/10.1039/D0PY01564D)