Umicore Grubbs Catalyst M102
Umicore Grubbs Catalyst M102
Dichloro(benzylidene)bis(tricyclohexylphosphine)ruthenium(II)
CAS Number: 172222-30-9
Metal:
Product class:
Application:
Reaction type:
Applications & references
Formal Synthesis of (-)-Haliclonin A: Stereoselective Construction of an Azabicyclo[3.3.1]nonane Ring System by a Tandem Radical Reaction.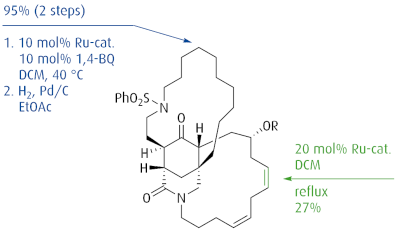 Reference: Org. Lett. 2020, 22, 13, 5046–5050
Formylation of a metathesis-derived ansa[4]-ferrocene: a simple route to anticancer organometallics.

Reference: Dalton Trans. 2020, (doi.org/10.1039/D0DT01975E)
Aerogels for the separation of asphalt-containing oil–water mixtures and the effect of asphalt stabilizer.

Reference: RSC Adv. 2020,10, 24840-24846
Asymmetric total synthesis of the naturally occurring antibiotic Anthracimycin

Reference: Org. Lett. 2020, 22, 14, 5550–5554
Sequential two-fold Claisen Rearrangement, One-pot Ring Closing Metathesis and Cross-metathesis as a Route to Substituted Benzo[b]azepine-2-one, Benzo[b]azepine and Benzo[b]oxepine Derivatives.

Reference: Helv Chem Acta 2020 ASAP (doi.org/10.1002/hlca.202000216)