Dichloro[1,1'-bis(di-
tert

-butylphosphino)ferrocene]palladium(II)

CAS Number: 95408-45-0
Applications & references
Reductive carbonylation of aryl halides as an alternative and mild route for the introduction of aldehyde functionality, which is mostly desired for fine chemical and pharmaceutical intermediates to open up the wide range of further possible transformations.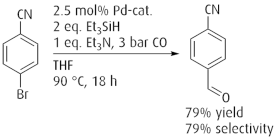 Reference: Org. Proc. Res. Dev. 2007, 11, 39. (DOI: 10.1021/op060193w)
Total synthesis of diacyl glycerolacyltransferase-1 (DGAT-1) inhibitor including an ambient temperature Suzuki−Miyaura coupling reaction. DGAT-1 is one of two isoforms which catalyze the final and committed step of triglyceride biosynthesis. This compound could play a decisive role in the development of obesity and insulin resistance.
Reference: Org. Proc. Res. Dev. 2010, 14, 417 (DOI: 10.1021/op900310v)
High yielding Palladium catalyzed C-H arylation of electron-enriched heteroarenes with aryl bromides.

Reference: J. Org. Chem. 2010, 75, 6998. (DOI: 10.1021/jo101433g)