Dichloro[1,1'-bis(diphenylphosphino)ferrocene]palladium(II)
CAS Number: 72287-26-4
Metal:
Product class:
Application:
Reaction type:
Applications & references
Reductive carbonylation of aryl halides as an alternative and mild route for the introduction of aldehyde functionality, which is mostly desired for fine chemical and pharmaceutical intermediates to open up the wide range of further possible transformations.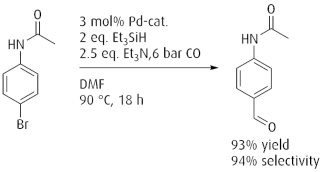 Reference: Org. Proc. Res. Dev. 2007, 11, 39. (DOI: 10.1021/op060193w), Synthesis 1996, 470 (DOI: 10.1055/s-1996-4246)
High yielding Palladium catalyzed C-H arylation of electron-enriched heteroarenes with aryl bromides.

Reference: J. Org. Chem. 2010, 75, 6998. (DOI: 10.1021/jo101433g)