Chlorophenylallyl[1,3-bis(2,6-diisopropylphenyl)-2-imidazolidinylidene]palladium(II)
CAS Number: 884879-24-7
Metal:
Product class:
Application:
Reaction type:
Applications & references
Suzuki-Miyaura coupling reaction step in the total synthesis of GPRP52 agonist, a preventive and therapeutic agent for schizophrenia.

Reference: WO2010 0188874
Buchwald-Hartwig coupling reactions.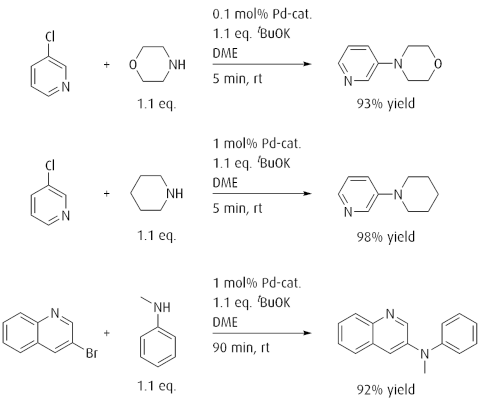 Reference: J. Am. Chem. Soc. 2006, 128, 4101 (DOI: 10.1021/ja057704z); Chem. Eur. J. 2006, 12, 5142 (DOI: 10.1002/chem.200600283)
Cyclopentannulation of diazabicycles.

Reference: Org. Lett. 2010, 12, 5422 (DOI:10.1021/ol050895q)
Palladium catalyzed anaerobic oxidation of secondary alcohols under mild reaction conditions.

Reference: J. Org. Chem. 2011, 76, 1390 (DOI: 10.1021/jo102385u)
Palladium catalyzed Buchwald-Hartwig- Reaction at room temperature.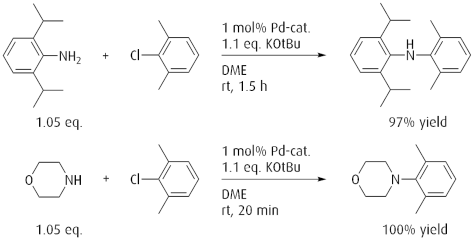 Reference: J. Am. Chem. Soc. 2006, 128, 4101. (DOI: 10.10217ja057704z)