Dichloro[1,3-bis(2,6-diisopropylphenyl)imidazol-2-ylidene)](3-chloropyridyl)palladium(II)
CAS Number: 905459-27-0
Please order your research quantities at Merck / MilliporeSigma
Applications & references
Preparation of substituted heterobicyclic carboxylic acids, as well N-oxides and agriculturally accepted salts, which are applied in controlling plant growth.

Reference: WO2011045561
Manufacture of pyrazol derivatives as modulators of cannabinoid receptors, which are useful in the treatment of obesity and overweight.


Reference: WO2008 074982
Novel synthetic approach of glycine transport GT1 inhibitor sacrosine.


Reference: WO2007 060203
Intramolecular direct arylation of aryl chlorides.

Reference: Synth. Comm. 2011, 41, 41 (DOI: 10.1080/00397910903531755)
Oxidation of secondary alcohols.

Reference: J. Org. Chem. 2011, 76, 1390 (DOI: DOI: 10.1021/jo102385u)
Suzuki-Miyaura coupling reaction.

Reference: Org. Lett. 2011, 13, 146 (DOI: 10.1021/ol1027283)
Negishi coupling reactions.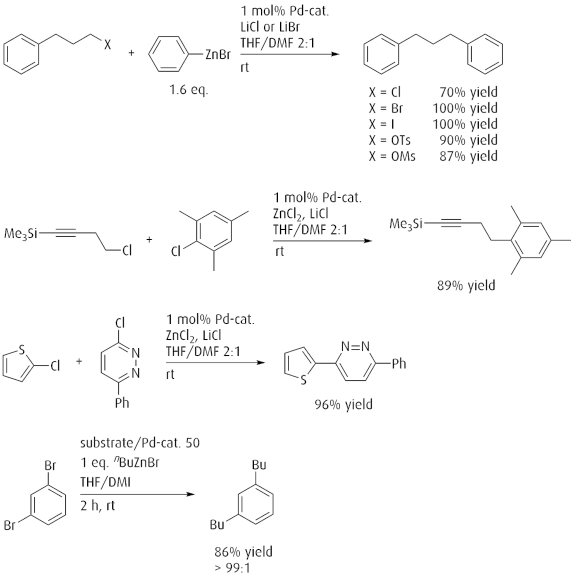 Reference: Chem. Eur. J. 2006, 12, 4749 (DOI: 10.1002/chem.20060020) ; Org. Lett. 1999, 1, 1323 (DOI: 10.1021/ol9907872); J. Org. Chem. 2002, 67, 79 (DOI: 10.1021/jo0105787)
Palladium catalyzed anaerobic oxidation of secondary alcohols under mild reaction conditions.

Reference: J. Org. Chem. 2011, 76, 1390 (DOI: 10.1021/jo102385u)