Diacetato[(R)-2,2'-Bis(di-2-furanylphosphino)-6,6'-dimethoxy-1,1'-biphenyl]ruthenium(II)
CAS Number: 952040-51-6
Product class:
Reaction type:
Legal information
This complex is IP protected and sold on a "kg price IP included" model, please contact us for more information on our IP access.
Applications & references
Preparation of (3S,4S)-1-benzyl-4-chlorophenyl-pyrolidine-3-carboxylic acids via asymmetric hydrogenation; these compounds are important starting materials or intermediates in the synthesis of pharmaceutically active compounds, e.g. for the treatment of central nervous system disorders.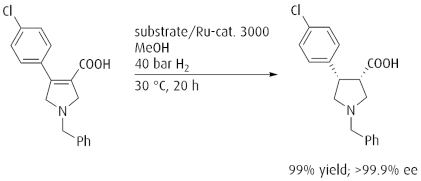 Reference: US2010 0152462
Synthesis of cis-substituted cyclic ß-aryl or- heteroaryl carboxylic acids in high diastereo- and enantioselectivity by asymmetric hydrogenation.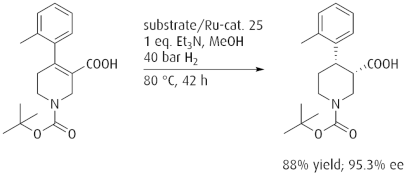 Reference: US2007 0232653