Chiralyst Rh639
[((R,R)-2-Amino-1,2-diphenylethyl)[(4-tolyl)sulfonyl]amido](chloro)pentamethylcyclopentadienylrhodium(I)
CAS Number: 223392-99-2
Product class: Homogeneous Catalysts, M-C, Arene/Aryl Ligands, M-N, Chiral Ligands
Reaction type: Asymmetric Reactions, Hydrogenation, Asymmetric Hydrogenation, Transfer Hydrogenation
Applications & references
Asymmetric reduction of a-sulfonyloxy acetophenone compound yielding an optically active 2-sulfonyloxy-1-phenylethanol derivative with high enantiomer excess.

Reference: WO2008 054155
Asymmetric synthesis of ß-amino alcohols by rhodium catalyzed transfer hydrogenation of a-keto imines.

Reference: Tetrah. Asym. 2010, 21, 2244 (DOI: 10.1016/j.tetasy.2010.07.004)
One pot synthesis of sterically active epoxides starting from a-chloroacetophenones including a asymmetric transfer hydrogenation step.

Reference: Tetrah. 2004, 60, 7411 (DOI: 10.1016/j.tet.2004.06.076)
Synthesis of optically active styrene oxides by asymmetric reduction of 2-chloroacetophenones.

Reference: Org. Lett. 2002, 4, 4373 (DOI: 10.1021/ol020213o)
Enantioselective preparation of cyclic sulfamidates by using asymmetric transfer hydrogenation.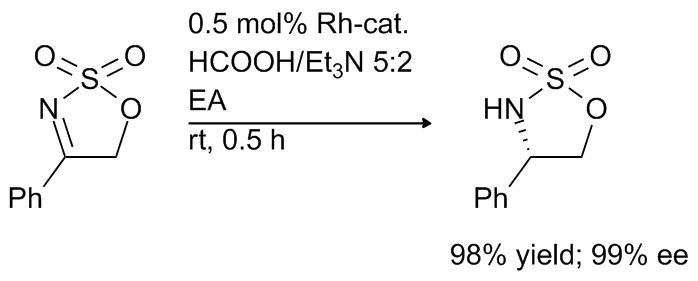 Reference: Org. Lett. 2010, 12, 4184 (DOI: 10.1021/ol1017905)
Asymmetric transfer hydrogenation of a-aminoalkyl a'-chloromethylketones yielding useful intermediates for the total synthesis of inhibitors of HIV protease and b-secretase in Alzheimer disease.

Reference: J. Org. Chem. 2004, 69, 7391 (DOI: 10.1021/jo0491455)