Umicore Hoveyda-Grubbs Catalyst M720
Umicore Hoveyda-Grubbs Catalyst M720
[1,3-Bis-(2,4,6-trimethylphenyl)-2-imidazolidinylidene]dichloro(2-isopropoxybenzylidene)ruthenium(II)
CAS Number: 301224-40-8
Metal:
Product class:
Application:
Reaction type:
Applications & references
Access to 3-oxindoles from Allylic Alcohols and Indoles.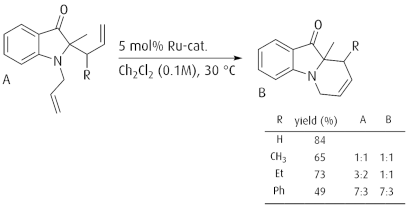 Reference: Chemistry a European Journal, March 2018
Asymmetric Total Synthesis of Lancifodilactone G Acetate.

Reference: The Journal of Organic Chemistry, March 2018
Preparation of Functionalized α,β-Unsaturated Sulfonamides via Olefin Cross-Metathesis.

Reference: Org. Lett. 2020, 22, 13, 4970–4973
Formal Synthesis of (±)-Aplykurodinone-1 Based on the Indium-Catalyzed Conia-Ene Reaction.

Reference: Synlett 2020; 31(14): 1404-1408
Polymer Chain Editing: Functionality 'Knock-in', 'Knock-out' and Replacement via Cross Metathesis Reaction and Thiol-Michael Addition.

Reference: Polym. Chem. 2020,11, 4807-4817
Selectively Depolymerizable Polyurethanes from Unsaturated Polyols Cleavable by Olefin Metathesis.

Reference: Macromol Rapid Commun 2020 ASAP (DOI: 10.1002/marc.202000571)